The most important tool for some of us is perhaps our tape measure, a screwdriver or voltmeter. For others it may be their computer, vehicle or phone. However, for all of us, communication is one of the most important tools we possess. Our ability to share information and listen to those around us is crucial to our success.
In the elevator business we build, service and repair elevators. That's what the staff at United Elevator Services, LLC do, and we do it very well! Being a part of the largest independent elevator company in the state of Tennessee assures us that when we are faced with a difficult task we are not out there on an island. We have resources. Each job that we encounter has many people involved. Dispatch receives a trouble call and relays the issue communicated to them by the customers to each branch office. Superintendents take those workorders and assign them to service techs. Often the service tech can solve the elevator issue independently but need a part that must be ordered through the parts department. We need to communicate accurately what part we need and how soon we need it. Clear and concise communication gets the job done efficiently and successfully. Then there are the instances when we do not readily find an answer to a problem and must call someone else for assistance. We must communicate what the problem is over the phone to our tech support. (I am glad my name is not Dean!)
On the other side of the spectrum, a huge part of communication is listening. Before we ever begin a service job we are listening to our customers and any issue that they are experiencing with their elevators. We then translate this communication into our bank of experience and knowledge. Next, we know that the equipment we are working on communicates with us. We ride, feel, listen and observe what the elevator is doing or not doing. The elevators, just like the customers and co-workers, speak to us.
71% of persons surveyed by Deloitte feel that communication skills are the most important quality of a leader. We are all leaders in our own right. Communication is part of everyone's job! When we work as part of a large team it very important to convey our ideas or what we are dealing with clearly and concisely to resolve the task at hand. To communicate what is in front of us to someone else who is not there so that they can understand can be difficult. Be prepared to answer questions by familiarizing yourself with information that is going to be helpful to resolve the issue.
Good communication makes every situation a better one. If you have a difficult opportunity that is taking more than a day to repair, talk with the customer at the end of each day and let them know what is going on without being too technical. Let them know when you are leaving and when you will return. Then be a person of your word so that they know they can rely on what you say you will do. This kind of communication can make a bad situation much more bearable for the customer. It can even strengthen their relationship with UES. In addition to verbal communication with your customer, co-worker or manufacturer, it is also good to make use of email so that if you need to you can make sure everyone involved has the same information.
Communication will help the customer to have a positive relationship with UES. Every member of our team can help that to happen. How much time does it take a few days after a successful repair to call that customer and check in to be sure they are happy with the work we performed. A little effort to reach out to a customer can transform them from a customer into an advocate.
At United Elevator Services, LLC we never have problems, we have opportunities.
Congratulations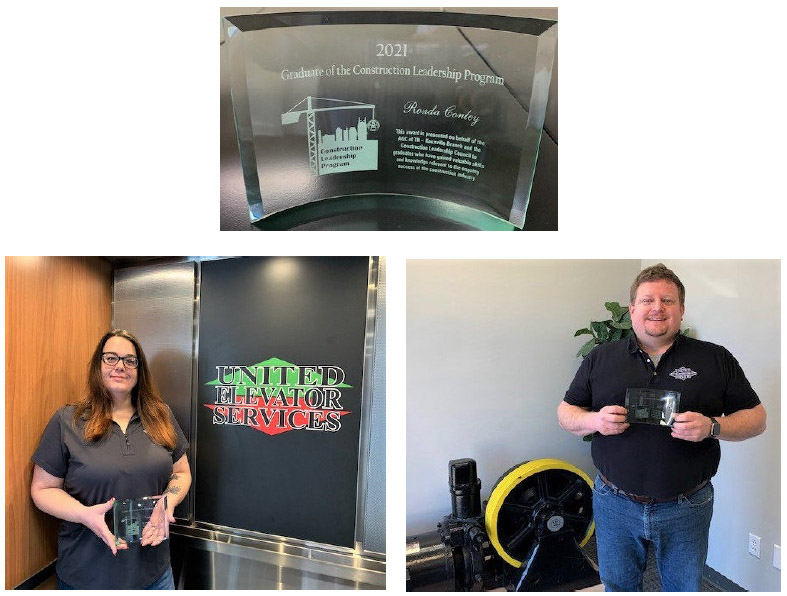 We want to congratulate Ronda Pearson, new equipment coordinator in Knoxville and Jeff Cruze, sales representative in Nashville for graduating from the Associated General Contractor's Construction Leadership Program. This is a year-long, exhaustive look at all aspects of operating a business in the construction industry. We are proud of the dedication and hard work they provided to achieve this honor.
"The Construction Leadership Program was created in 2011 by Middle Tennessee construction executives and CLC board members. Its purpose is to educate young leaders on all of the facets of how the construction business works, as well as provides leadership training and networking opportunities. The CLP provides courses to expose up-and-coming leaders in a company to the many facets of running a construction company. Since its inception in 2013, 140 emerging professionals from the area have graduated from this program."